International Cultic Studies Association (ICSA) 2017 Conference In France
June 30 @ 2:00 PM

-

2:30 PM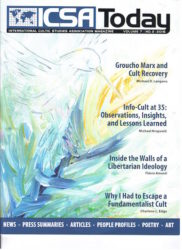 This summer I will present a paper at the annual conference of ICSA in Bordeaux, France. Last year I submitted my idea for a paper titled "Breaking the Power of Cult Symbols" and it was accepted. What does the topic entail? High-control groups, like the one I was in for seventeen years, use imagery, slogans, and thought-stopping clichés to instill loyalty to the cult leader and galvanize commitment to his or her goals.
Understanding a cultic group's symbols can help break the control the cult exerts over followers.
Abstract of my paper
Breaking the Power of Cult Symbols
Traditional religions use symbols to enhance the spiritual life of believers. Destructive cults, however, do the reverse—cult leaders deploy symbols to serve their agenda and gain power over followers. Instead of encouraging believers to contemplate spiritual realities represented by symbols, such as the cross in Christianity, cults use their leaders' photographs, slogans, and official insignias to galvanize commitment to the leader and to following his beliefs, dogmas, and directives. The cult's symbols become tools of manipulation.
While symbols may be introduced to appeal on the cognitive level to members, they quickly influence deeper, emotional commitments, much like pledging allegiance to a flag or singing a national anthem. Thus, symbols can be used as a way to control members, and since their pull remains on the non-conscious level, they can make it very difficult for a member to extricate from the group.
My paper shows how Victor Paul Wierwille, founder of The Way International—that became one of the largest cults in the United States—used symbols to market his fundamentalist cult as a biblical research, teaching, and fellowship ministry. I committed myself to The Way from 1970 to 1987.
Wierwille crafted official logos, slogans, and photographs to identify The Way as unique and elevate himself in his follower's eyes as their "father in The Word" and God's chosen leader. His claim of teaching "the accuracy of God's Word" was a powerful inducement to join and remain loyal. The Way's biblical research itself became a symbol used to reinforce Wierwille's claims. Although now deceased, Wierwille still retains power over many who left his organization but still believe in him, making it impossible for them to shed their cult identity. To break the spell of cults and derail the power of cult leaders, we must understand their symbols to dismantle them.