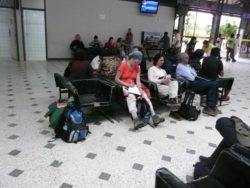 Have you ever watched a movie and 2/3 of the way through you wonder how in the world they're going to end this thing? Or a novel? Same question. Let's face it. Endings are difficult for writers to pull off.
How to end a story
A few years ago I read The Writing Life: Writers on How They Think and Work. A Collection From the Washington Post Book World, edited and with an Introduction by Marie Arana. One of those writers interviewed in the book is Muriel Spark, a novelist who lives in Italy. She has this to say about endings:
"… I have learned that happiness or unhappiness in endings is irrelevant. The main thing about a book is that it should end well, and perhaps it is not too much to say that a book's ending casts its voice, color, tone and shade over the whole work." pg. 57.
I love that. It leaves me with an image of a gigantic shade tree casting its protective shadows over a house (the book). In a country of readers that seems to ache for happy endings most of the time, I think it's good to remember that not all pieces of literature are meant to offer a feel-good end. There's often value in the unexpected disturbing ending done well. Easier said than done …
To end is to do the hard thing
Endings are hard, hard to write and hard to bear if you loved the story and want it to go on forever. I like heart wrenching endings, thought provoking endings, and even surprise endings, as long as they leave me thinking about the characters or the story line, but not annoyed. If the writer has led me well in the story and prepared me, I should be able to feel a sort of satisfaction at the end. Isn't that what we want as readers?
There's a killer ending in one of my favorite movies, Casablanca. In The Writer's Idea Book by Jack Heffron, he writes: "A good ending provides closure in which character, plot, theme and tone match what precedes them in the story. If the star-crossed lovers in Casablanca had hightailed it across the tarmac, leaving Ilsa's husband behind, we would not be happy." pg. 212.
For something completely different, earlier this week I read a quirky statement about endings in the weekly blog, MAD's Monday Muse, by my friend and website designer Mary Ann de Stefano. It's a bit about "the stupid end."
An image at the end
Somewhere along my journey, I came across this advice: at the end of the story or a poem, leave readers with an image. An image will stick in their mind. It can seal the story for them. Offer something concrete that evokes the emotion you want the reader to feel at the end, or that serves as a metaphor to express what you want them to remember. At the end of Undertow, I end the story with the image of looking in the rearview mirror. Make no mistake. That was deliberate. So were the metaphorical steel teeth in the road that prevent you from backing up your car. By the way, that ending came to me long before I finished the book.
About Endings
A few helpful websites:
From Writers Digest "How to Write Successful Endings" by: Nancy Kress
"3 Important Rules for Writing Endings" by JB Lacaden
From The Writer's Life "How to Write a Great Book Ending" by Bethany Cadman
THE END
Your writer on the wing,
Charlene