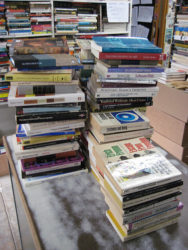 In 1988, I took a creative writing college course. During the opening moments of the first session, the professor rushed in the room and asked right off, "What is the writer's sacred duty?" It seemed urgent that he find out whether or not we knew.
He peered at a few students in the front.
"Write every day," somebody said.
"Nope. Next …?"
"Submit our stories for publication … and don't give up," a guy in front of me said.
"No, but that's a good idea. Anyone else?" Our professor sighed. He pointed to a woman in the back row.
She winced, as if worried that she, too, would be wrong. "Be in a writer's group, you know … to get feedback?"
"Well, that's another worthy goal, but not the one I'm looking for."
Read
"What about this …?" he said. "Read! Reading is the writer's sacred duty. And deep down you knew that, right?"
"Oh," a collective groan filled the classroom. Of course. The obvious, the simple, the basis for all writing was right under our noses. We knew it to be true. Reading made us fall in love with writing to begin with, right?
That classroom scene plays itself like a movie in my mind at most every writers' meeting. I like asking people what they're reading, not what they're writing. The answer usually tells me something interesting about the writer.
P. S. In case you're wondering, the scene above is a reconstruction from memory, not a verbatim record from notes.
Dillard on reading and writing
From Annie Dillard in The Writing Life (1989):
"The writer studies literature, not the world. He lives in the world; he cannot miss it. If he has ever bought a hamburger, or taken a commercial airplane flight, he spares his readers a report of his experience [unless he is a travel writer]. He is careful of what he reads, for that is what he will write. He is careful of what he learns, because that is what he will know." (pg. 68).
What's on your bookshelf?
For the past couple of years, I've been in a book club. For me, it fills the need, in part, for a sense of community, besides fulfilling my sacred duty, perhaps like going to a church does for other people. We've read fiction and non-fiction stories. We've discussed the stories, their merits, their weaknesses, whether or not they were "well written," and in between snacks and/or glasses of wine, we've bantered about in the experience of reading the book as if splashing in the deep end at a pool party. Then we argue, in the friendliest of ways, about which book to read next.
Not everyone in the club is a writer. But we all love to read. Do you?
For the summer, our club is in suspended animation, but I'm pushing on. A friend suggested A Gentleman in Moscow by Amor Towles, author of the New York Times bestseller, Rules of Civility (which I have not read … yet). This friend is a writer and reporter and loves sentences as much or more than I do. She said I'd love Towles's writing, and I do. The story takes us to another country and another time.
From the inside flap: "When, in 1922, the thirty-year-old Count [Alexander Rostov] is deemed an unrepentant aristocrat by a Bolshevik tribunal, he is sentenced to house arrest in the Metropol, a grand hotel across the street from the Kremlin. An indomitable man of erudition and wit, Rostov must now live in an attic room while some of the most tumultuous decades in Russian history are unfolding outside the hotel's doors."
This is a big, take-over-your-life-for-a-couple-of-months book. Perfect for this summer.
What's on your summer reading list?
Happy adventures on the page and in the mind.
This Friday, look for another installment of my nerdy blog post experiment called Fundamentalist Friday.
Your writer on the wing,
Charlene
Imagine this: In 2009, Hoyt and I were in Bali, Indonesia for two months. Yeah, I know, a tough job but someone had to do it.