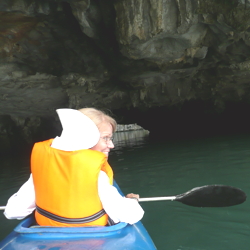 "The most satisfying travel is attentive, as if we were in love." —Pico Iyer
I've had the privilege of traveling with my husband, Hoyt Edge, around the United States of America, and, as of September 2016, to more than twenty other countries on this glorious planet. Ever since our first trip—Greece 2001—I've kept a journal of each adventure (and misadventure) and written travel blogs and emails—maybe some of you have read them.
I publish new travel posts on this website, and on other sites you can find posts about my travels to Turkey and Peru.
The longest we've stayed in one country was two months in Bali, Indonesia, where my husband did field work in meditation, and I discovered a store with books in English left by other travelers, including James Sullivan's Over the Moat, his memoir about courting a Vietnamese woman despite cultural roadblocks. I finished reading it on our flight from Bali to Hanoi with a feeling of closeness to Vietnam, eager to see everything the book had made so real.
That experience was part of our most ambitious journey: in five months, we visited six counties starting in New Zealand. We continued northwest through Asia and luckily were granted entry to Tibet, traveling to a most precious place, the former home of His Holiness the 14th Dalai Lama, one of my heroes.