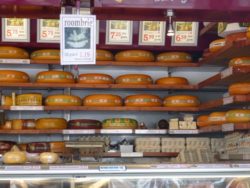 Round cheese, square cheese, soft cheese, and hard cheese. Golden wax layers protect and preserve it. Gobble it up with that excellent, chewy bread you find only in Europe (is it something in their water?) a bit of juicy nectarine, and a glass of wine. You're good to go!
Gouda the cheese
Last May, my husband, Hoyt, and I landed in cheese paradise. Even Gouda's old weigh-house, The Waag, is now a museum of cheese where you find out interesting facts, like the taste of the same kind of cheese is not consistent. Why? Because depending on what sort of grass the cows ate before milking and some other factors, cheese flavors will vary. Surprise to me!
Gouda the town
Gouda is a lovely town in The Netherlands with a population of about 70,000. It reminded me of Amsterdam only with a smaller town square and fewer canals, museums, tourists, and bikes. I loved it.
As long ago as 1272, Gouda had its beginnings. Count Floris V of Holland granted municipal rights to this little settlement along the river Gouwe and it grew and grew. They finished building town walls around 1350, and the town's layout remains about the same today.
Our Gouda lodging
Using Airbnb, we'd booked a house on a stunning canal. The dining room windows overlooked watery reflections of leafy trees and the neighbors' houses across the narrow waterway. The scene reminded me of a Monet painting. The owner of a ship-building company built the house in the 16th century, and its original heavy wood front door and decorative ceiling remain.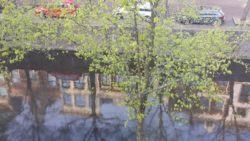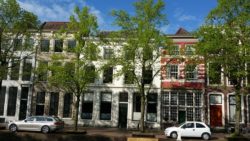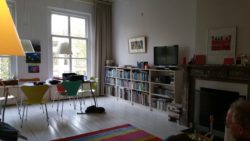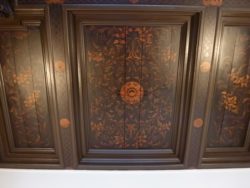 Gouda's Charm
I felt as if I were at home in Gouda. It was a quiet place and peaceful and its history seeped from its old stone streets, carrying us along to explore. One of the best ways to make friends with Gouda is to take the self-guided walking tour.
A highlight was discovering a hidden section of town called Looierspoort. Its houses are linked shoulder to shoulder. Evidently during the 19th century many poor people, often Jewish people, lived here in the dark, damp houses. The entrance to the lane is narrow so you must walk one behind another.
Many old buildings remain throughout the town, like the hospital, orphanage, and town hall. The streets are clean and townsfolk helpful. We ate a variety of food there, even a Greek restaurant is in the town square. And cheers to the good beer everywhere!
Gouda's famed religious tolerance
As long ago as the 17th century, Gouda permitted different religious ideas to abide in their town, more than any other town in the country. All sorts of churches remain. There's a medieval church, St. Joost Chapel from about 1429 that later was used by the Presbyterians at the end of the 17th century. An old Catholic church built in 1603 is nearby.
The spectacular St. John's Church is dedicated to St. John the Baptist, the patron saint of Gouda. The structure is 123 meters long (134 yards) making it the longest church of The Netherlands, and it is famous for its "Gouda Windows," more than 70 large stained glass depictions of biblical and historical scenes. During the Protestant Reformation, the windows and other articles were removed so they were not destroyed during the riotous mayhem. No photo taking is allowed inside.
Gouda's beloved Erasmus
A man named Geert Geerts, otherwise known as Desiderius Erasmus (ca. 1467-1539) spent his childhood in Gouda and later entered the Stein monastery outside the town where he studied the classics and began a scholarly life. After six years of that, he rejected his monkhood, traveled extensively, and eventually became one of Europe's most influential thinkers, instrumental in the founding of the Humanist movement.
I love this, one of his quotes, "In the country of the blind, the one-eyed man is king."
If I wrote about everything in Gouda that I loved, this blog would be ten times longer. So, I gotta stop. Hope you like the photos.
See you next time!