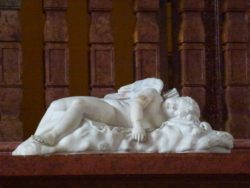 Life is shorter than we think. That's cliché, I know, but clichés are clichés for a reason. They carry a truth. Have you ever had a new friend that you wished, after you discovered they must soon move away, that you'd spent more time with? Have you fallen into the habit of expecting your friends to always be there? Do you, like me, find yourself getting used to people being in your life and so you get lax about making an effort to visit or call? Recently, I experienced this with my "new" friend, Renate. She had to leave abruptly, it seemed to me, although if I had paid closer attention I might have seen the journey coming.
Renate Sutton
Renate Haas Sutton was born in Berlin, Germany, in 1937. She was almost old enough to be my mother, yet in her kind and gentle presence, I felt more like her peer. I met Renate in 2007 after I quit my day job in the software industry (after nearly 10 years) to write my memoir. But I'm getting ahead of the story …
The Rollins Women's Association
Every month, the Rollins Women's Association (RWA) meets for lunch at a restaurant near my house. In 2007 after I quit my proposal writing job in Lake Mary, Florida, at the software company, I was invited to join the monthly RWA luncheon phenomenon. What "qualified" me was that in 2002 I married a Rollins College professor, Dr. Hoyt Edge, who taught Philosophy at Rollins from the ripe old age of 25 (right out of grad school at Vanderbilt) until retirement in May 2014. We had traveled the world for years and after stops and starts with my book writing, we agreed in 2007 that I could leave my day job (yes, I know how lucky I am!) and finish the book that kept bugging me to write it, now titled, Undertow. Enter, Renate.
At one of my first RWA meetings/lunches, I met Renate among the women who are either retired Rollins faculty, faculty wives or ex-wives, or retired Rollins staff members. The group is a mainstay of my continuing education. Their loyalty and support of one another is a tribute to love and friendship. How did I have the joy of being among them? Because of Hoyt, first of all. But also because the lovely Janne Lane, spouse of retired History professor, Dr. Jack Lane, called me up and offered me a place at that welcoming table.
A friend from afar
One day at the RWA luncheon, I sat across from Renate at the table that accommodated about a dozen of us. Hoyt and I had recently returned from a trip to Germany, so at lunch I talked about it with Renate, knowing she was from that country. She told me she'd been born in Germany but after WWII the Russians commanded her father, an engineer, to work in Russia. The family had to move there; she learned to speak the language. After Stalin died, they were allowed to return to East Berlin. Later, they escaped to Munich.
It amazes me the lives that people live. No doubt I admired her even more after hearing that story. Before that day, likely unknown to Renate, she'd been a dear support to me. She and her husband, Larry, among RWA friends and others, had sent emails to me in 2009 while Hoyt and I traveled for 4 1/2 months around the world. They replied to the short travel reports I sent, first from New Zealand, and then as we continued to Australia, Bali, Vietnam, Cambodia, China, and Tibet (that trip may be the subject of another book). During the two months we stayed in Bali, I will never forget the surprises in my Inbox. From the other side of the planet—literally, Bali's time zone is a 12-hour difference—appeared notes, as if by magic, often from Larry and Renate sending hometown love.
One time Larry wrote snippets of memories about his times abroad, along with good wishes for our continued safe travels. Although I'd never met him, he provided comradery through his generous stories. I was so eager to read anything in English that he could have written weather reports, and I would have been thrilled. Those emails eased the homesickness I often felt being so far away …
Salmon, kale, and I wish there were more
Some years later at another RWA luncheon, Renate and I sat next to each other. She was a quiet but observant woman whose gentleness drew me to her like a restful reservoir. I knew she held secrets. I felt her history had imposed power and shaped her. Not one to talk about herself much, Renate usually let others initiate a conversation. That day I asked her about recipes she liked. The one she shared was for steamed salmon and kale.
I wish I'd asked Renate more questions.
Last Saturday, Hoyt and I attended Renate's memorial service. That was the day I finally met my correspondent friend, her husband Larry, for the first time. A beautiful event, with moving stories about Renate's strength, courage, and good cooking, the service brought to mind those notes of friendship she and Larry sent when I'd felt lonely sometimes on the other side of the world. Cheers to a woman I'll never forget.