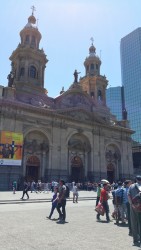 If you missed it, you can read the introduction to this travel series: The Edges in The Wilderness Beyond. Now, let's continue to …
Santiago, Chile
This time of year it is summer in South America, and it is hot. We landed first in Santiago, the capital city of Chile, which is a place I wish we'd had more time to explore. What it was for us was home base to go to and come back from Easter Island, our pre-trip portion of the Wilderness Beyond adventure.
We enjoyed a one-day walking tour of Santiago despite our needles-and-pins feelings over whether the LAN airline strike would resolve in time for us to fly the 2,400 km over to the mysterious Easter Island, the most isolated place on earth.
Santiago is a modern city, home to about one-third of Chile's 12 million people. It lies where two rivers meet: the Mapocho and Maipu, and in the background, breathtaking views of the Andes mountains give you a sense of protection.
Spanish conquistadors, however, broke through any protective illusions back in the mid 1500s, and later, a stream of other rulers came through. Chile has seen Marxists and military dictators. Finally today it has a democratic government.
The Santiago Cathedral
Every Spanish-founded city has a cathedral. The Santiago Cathedral is gorgeous and inspired several of the photos below with its art.
The movie that riveted my attention on Chile
If you saw the movie, NO, you know what I'm talking about. The movie depicts the 1988 overthrow of Pinochet, a nightmare politician who killed many of his own people. Crisis. A young advertising executive spearheaded a political campaign to oust Pinochet, using the idea that democracy is a happy alternative to dictatorship. Happy! What a concept! The people could vote YES or NO. Thus the name of the movie.
FYI – If you live in the Orlando, Florida area, the writer Antonio Skarmeta, author of the play The Referendum on which the movie NO is based, is coming to town. He is one of the visiting "Winter With the Writers" next month. Come and hear him speak at Rollins College on February 4th. And come out for all the other authors, too. Here's the schedule.  2016 Winter With the Writers.
Pisco Sour
Our welcome drink was fabulous. I've included the recipe in the photo gallery below. If you like traveling vicariously with me, I hope you enjoy the sampling of photos from around town in Santiago.
Next post: Easter Island or bust!
As usual, click the first photo to begin the slideshow.
Thanks for reading me!