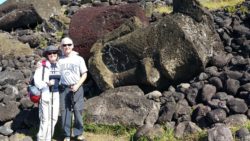 Welcome to the introduction for a series of posts about our recent 3 1/2 week travels around South America. My husband initiated the idea for this trip after gaining interest in the wilds of Patagonia—a vast territory of Chile and Argentina in southern South America—and also following a long-held wish to land on Cape Horn, the southernmost tip of that continent where the Pacific and Atlantic Oceans meet and produce some of the most treacherous seas on the planet. It turned out that the weather gods and a few skilled navigators made his wish come true.
I just wanted to see where the Easter Bunny lived and I got my wish, too. But I'm getting ahead of the story …
The itinerary
Last fall, the travel company's brochure arrived in the mail. The cover read: "The Wilderness Beyond: Patagonia, Tierra del Fuego & the Chilean Fjords" and the subtitles included the names of the pre and post trips we would also take: Santiago and Easter Island & Iguassu (or Iguazu) Falls and Buenos Aires, Argentina. 2015. We were going all out.
If you saw the 1986 movie, Mission, with Robert De Niro and Jeremy Irons about a Jesuit mission church established in Argentina during the 18th century, then you saw shots of Iguazu Falls. They are mesmerizingly taller than Niagara and twice as wide. Our group viewed them for two days from both sides, from Argentina and from Brazil.
Travel and me
While traveling, during off times and plane flights, I read the book Black Dogs by Ian McEwan. In the story, a character is hiking in the mountains (we did a lot of that on this trip) and while watching a line of caterpillars crawl across his path, this character thought, "how we shared the planet with creatures as weird and as alien to us as any that could be imagined from outer space. But we give them names, and stop seeing them, or their size prevents us from looking."
Are we really seeing what we could when we look?
Our diverse and far-flung itinerary gave me plenty of chances to look and see … alien and strange things. Sometimes I looked and felt reverence—who wouldn't in the presence of the highest Andean peaks, Patagonian rhea (like ostriches), wild purple flowers, and towering blue glaciers? Even a purple and green beetle, seemingly far out of place on a walkway over Iguazu Falls, captured my attention. Being out of my usual context at the writing desk, I had to use different "muscles" to notice with fresh eyes.
The travel company
A friend of ours had recommended the tour company, Overseas Adventure Travel (OAT), in business since 1978. They took good care of every arrangement and provided outstanding guides. Safety in these out-of-the-way places came first. We were grateful.
The adventure
To be honest, the schedule was sometimes daunting, but the payoff was terrific in the sightseeing, hiking tours, interactions with people who lived in those places, and living amongst our group. For the main trip to Patagonia, which began with a 4-day cruise, our group was large: 22 travelers from around the USA. We understand that with OAT, whenever there is a cruise in the itinerary, the group size is larger than the normal limit of about 16.
Most of our companions were retired, but not all. Everyone was an experienced traveler, congenial, and what was often most appreciated: on time. Scheduled buses and planes and trains and boats cannot be kept waiting. Some people were bird lovers with professional cameras and have shared some photos with us that I'll include in later blog posts. From various professions, each person added quality, fun, and friendship to our experience. Simple kindnesses took on monumental meaning being so far away at the end of the world—like someone reaching out to hold my hand when the mighty winds of Patagonia nearly blew me over. Thanks, Marj.
Next post: Santiago, Chile, the start of the journey
This lovely city was the home of the dedicated guide who accompanied us on the entire tour: Jorge! Those of us on the pre-trip to Easter Island met first in Santiago, scheduled to fly out from there. The day we arrived from Miami, we learned some troubling news. The airline, LAN, was on strike in Chile. Tourists were stranded on Easter Island. Would we be able to fly there as scheduled?
To be continued …
If you click on the first photo below, you can start a bite-size sample of the trip. Stay tuned for more on this trip next week.
Thanks for reading!