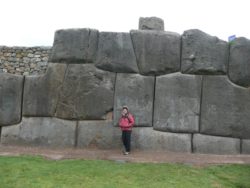 Peru. Time travel to 2011 and visit a remarkable long-lost Incan civilization that flourished in the majestic mountain-top city of Machu Picchu. Alpacas stroll around and provide luxurious wool for sweaters and scarves. Thirty kinds of potatoes grow in Peru. Yum. Peru lies in South America like a jewel studded with the Andes Mountains, rushing rivers, and silver mines.
In 2011, my husband and I traveled around Peru. When we got home, I wrote a fairly thorough trip report and want to re-share it with you here. I hope it puts you on a good vicarious trip. It was an invigorating time for us and spectacular at every curve in the road.
Did you know that the Incans built their gigantic stone walls to withstand earthquakes? They reminded me of mammoth jigsaw puzzles made of huge black interlocking rocks … impregnable walls that guarded Incan cities and coastlines.
Getting to the Peru blog
My Peru 2011 blog is housed on a website called BlogSpot. My website here did not exist yet.
So … you can get to Peru the following ways:
Click → From The Andes to the Amazon: Ten Days in Peru
OR on this website, navigate to the "Travel Writing" page and click the link that says "From The Andes to the Amazon."
Cheers!
Next week I'll write the first in a series of blog posts on our recent trip to South American that included Easter Island, Santiago, Buenos Aires, Ushuaia, a cruise through Tierra del Fuego (landed on Cape Horn), Patagonia, and Iguazu Falls. Spectacular journey!