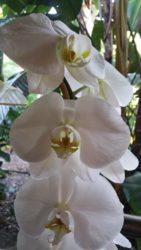 Happy 2nd anniversary. Wow, is it almost March 26, 2017? Two years ago on that date (my birthday, but don't ask the lady her age) this website went "live!" Many thanks go to my web designer, Mary Ann de Stefano, to all my supportive friends, and to YOU—subscribers to this blog. Special thanks go to my former memoir writing professor, Dr. Lezlie Laws, my family, Rachel and Adam Chase, and my amazing husband, Hoyt Edge—who keeps me sane, happy, and writing!
During the past two years, besides finishing Undertow, Hoyt and I have visited many far-flung places on the planet. I've written travel blogs here, so maybe you've read some. I especially loved visiting the country of my mother's ancestry: Ireland.
Catching my breath
In between travels, I finished writing Undertow and published it. People ask when my next book is coming out. Well, what I just did with Undertow felt like having triplets, so thinking about the next book is waaayyy too soon, although I'll say this: if there is a next book, it very well may be about our travels.
Events – what's next for Writer on the Wing?
Speaking to groups about my story and marketing Undertow is my new normal. Check out the new Events page on this website for notices of where I'll be next. On March 23, it's back to my alma mater, Rollins College, where the Rev. Katrina Jenkins, Dean of Religious Life, has invited me to share my story. The Q&A time is always most interesting for me.
Two weeks ago I visited with the Rollins Philosophy and Religion club, where we discussed, among other things, the recruitment tactics of high-control groups, or "cults." As a college student, I was recruited into The Way but did not ask enough in-depth questions before jumping into the deep end of that pool.
Anniversary resolutions
Last year I wrote a blog post almost every week. This year my goal is the same. Wish me luck. If you have any requests for topics you'd like me to address, please leave your ideas in the Leave a Reply section below. I will consider each idea with respect and love.
Given the mountains of things to read online, I thank you for spending your time reading here.
Ciao for now,
Your writer on the wing