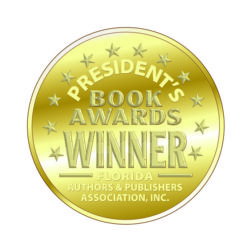 How do you spell 'honored'? B-O-O-K  A-W-A-R-D.  Undertow just won a Gold medal! I'm still weeping with joy. All my thanks go to Team Undertow: editors Mary Ann De Stefano and Alice Peck, copy editor Ruth Mullen, book designer Duane Stapp, artist Rachel Chase, all the "first readers," memoir professor Lezlie Laws, experts and authors who provided "blurbs," and my husband, Hoyt Edge, for his magic, love, and those home cooked meals he put together for this writer when he preferred to watch basketball. I love you!
For the record, books were judged by librarians–oh how we revere them. Here's the official announcement. Photo gallery below.
FOR IMMEDIATE RELEASE
CONTACT: Ken Johnson, Committee Chairman
Florida Authors and Publishers Association
President's Book Awards
(850)910-1897
kenneth.johnson@myFAPA.org
www.myFAPA.org
Local Author Receives National Recognition
Lake Buena Vista, FL (8/5/2017) – The Annual 2017 Florida Authors and Publishers Association President's Book Awards recognized Undertow: My Escape from the Fundamentalism and Cult Control of The Way International by Charlene L. Edge, in the category of Autobiography/Memoir, as a Gold medal winner.
Hosted by the Florida Authors and Publishers Association, this prestigious national award is open to books published between 2016 and 2017.
"The FAPA President's Book Award exists to promote excellence in the publishing industry by recognizing talented contemporary authors who put both heart and soul into their work. FAPA is proud to be a champion of authors and publishers going the extra mile to produce books of excellence in every aspect." said Jane R. Wood, President-Elect of FAPA.
Undertow is a non-fiction book published by New Wings Press, LLC, which portrays cult manipulation.  After a personal tragedy left her bereft, teenaged Charlene rejected family and friends in 1970 when recruiters brought her into The Way International, a high-control sect led by Victor Paul Wierwille. The Way became one of the largest cults in America. Charlene gave it seventeen years of her life.
Medals were awarded at the annual FAPA President's Book Awards Banquet held this year at the Hilton Orlando Buena Vista Palace in the Disney Springs TM Area of Lake Buena Vista, Florida.
"We are proud to announce this year's winners who truly embody the excellence this award was created to celebrate.  We had a record number of entries this year. Competition was stiff! We salute all of our winners for their fine work," said FAPA's President, Terri Gerrell.
The Florida Authors & Publishers Association is an organization for authors, publishers, independent publishers, illustrators, editors, printers, and other professionals involved in the publishing industry. It focuses on providing the highest quality of information, resources, and professional development to members and others interested in the writing and publishing profession.
###