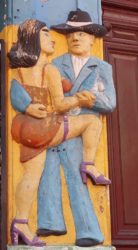 What happens in Buenos Aires on Christmas Day?
Tango lessons!
Of course! No way to wiggle out of it … just get over there and try. As soon as we entered the European style city, the vibe was everywhere. Our tour group's lesson in the hotel Amerian (not American) involved sweaty hands, patient dance instructors, and our rubber-soled travel shoes. Right. Perfect for swiveling tango. Baggage weight restrictions prohibited packing stilettos … not that I have 'em anyway.
Cemetery art in Buenos Aires
No traveler should miss a trip to the expansive Cemetario de la Recoleta, a small city honoring the dead. That's where Eva Peron, otherwise known as Evita made famous by Madonna, is buried in her family mausoleum. What I loved about the cemetery was the magnificent artwork wherever I turned. Don't cry for me Argentina, the song that made Madonna unforgettable, flowed through the city on buses, in hotel lobbies, through restaurants, shops, and bars.
Get ready for Patagonia
Next post … after a long flight from B.A., we landed in the small city at the bottom of South America: Ushuaia where we would board a cruise ship bound for Cape Horn. Ushuaia is in Tierra del Fuego, a lonely open-spaces-land that makes you feel … well, in the wilderness beyond!
Catch up on the trip here:
Intro, Part I: Santiago, Part 2: Easter Island
Ciao for now and thanks for reading!
Click the first photo to start the slideshow.