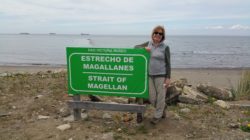 Where is Patagonia? Is it a country? A sportswear company? Or what? Patagonia IS a company that sells expensive outdoor adventure clothes but it is not a country. It is an area in the southern part of South American that stretches east to west across Chile and Argentina where the wind blusters and wildness rules.
After our cruise aboard the Via Australis ended at the Chilean port of Punta Arenas, we boarded a bus that took us first to the Strait of Magellan (featured photo) and onward into wild Patagonia.
Who has seen the wind?
When I was a kid I heard my mother often recite a poem, Who Has Seen the Wind by Christina Rossetti. It has a special room in my memory and I entered it most every day while in Patagonia. In that vast territory, it's not uncommon for gusts approaching 90 mph to whip through the expansive plains.
Torres del Paine park in Patagonia translates as "Blue Towers"
From our guidebook: "Torres del Paine, whose national park was declared a World Biosphere Reserve by UNESCO in 1978, is renowned as one of the most remote, beautiful, and unspoiled places in the world. The landscape is rich and diverse in dramatic geological formations, which combine in several distinct ecosystems, from the wind-bent grasses of the plains to the sheer, frozen cliffs of the Andes [mountains]."
Against the wind
The park is about 935 square miles. Enough space for speeding air to gain momentum and get the upper hand. One day on the highway, a gust of about 80 MPH blasted against the side of the bus throwing debris against the windows. We pulled over. Waited. It was in charge. When it let up, we lumbered on.
Another day, on a hike through the park, I had to stop fast, hunker down with my back against that wind; it nearly knocked me over.
The birds, animals, wildflowers, aquamarine water, towering rock. All of it, monumental.
Recommended reading
Bruce Chatwin's, In Patagonia. A favorite quote, "Patagonia is the farthest place to which man walked from his place of origins. It is therefore a symbol of his restlessness." Also: "To lose a passport was the least of one's worries. To lose a notebook was a catastrophe." I could not agree more.
The poems of Chilean lyric poet known as, Gabriela Mistral (1889 – 1957), a pseudonym for Lucila Godoy Alcayaga, educator, diplomat, winner of the Nobel Prize for Literature 1945.
The sound and the fury
Imagine howling wind and enter the slideshow by clicking the first photo. Enjoy!
Update on Undertow – my memoir
In case you haven't heard, I created New Wings Press, LLC just to publish my book. The road to publication is a steep one, but I have a talented book designer in NYC named Duane Stapp and a series of dedicated editors: Mary Ann de Stefano, Alice Peck, and final copy editor, Ruth Mullin, to help me make it happen. Also helpful is: The Complete Guide to Self-Publishing by Marilyn Ross and Sue Collier.
Next post: Publication target date for:
Undertow: My Escape from the Fundamentalism and Cult Control of The Way International