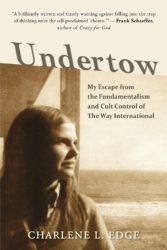 Have you read my new memoir, Undertow? If so, thank you. And thank you for all the lovely notes, e-mails, and in-person messages sharing what this story means to you.
If you haven't yet read it, this post offers a link to Chapter One (free sample) and some fast facts. Many readers have found Undertow a valuable book, a healing story, a timely warning. It's " … A frank, in-depth account of one woman's struggles in a controlling organization." — Kirkus Reviews
What Undertow is about: After a family tragedy struck, teenaged Charlene rejected Catholicism, family, and friends to join what became, in its heyday of the 1980s, one of the largest fundamentalist cults in America, The Way International led by Victor Paul Wierwille (1916 – 1985). After promotion to the inner circle of biblical researchers, Charlene discovered secrets: Wierwille's plagiarism, misuse of Scripture, and sex abuse. Amid chaos at The Way's headquarters in 1987, Charlene escaped.
A taste of Undertow: "I gulped down Doug's words without doing any critical thinking, not pressing him to prove what he said. He was so sincere that I clung to his assertions, like 'believing equals receiving,' as if they were heaven-sent."
Click for free chapter → Chapter One – Hiding in Plain Sight
More recommendations for Undertow
BookRiot included Undertow in: "100 Must-Read Books About Life in Cults and Oppressive Religious Sects"
"A magnificently written life story that sheds light on the enticing ways of cult recruitment and indoctrination … An important and must-read book–more gripping than a mystery, Undertow will sweep you away."—Janja Lalich, PhD, Professor Emerita of Sociology at California State University, Chico, author of Bounded Choice: True Believers and Charismatic Cults
Click for more → Endorsements
Why Undertow?
Why Undertow matters: Each year 50,000 to 100,000 people enter or leave high-control groups often called "cults." (data: The International Cultic Studies Association). Movies like Going Clear and shows like The Path have captured the nation's attention. Undertow is a REAL-LIFE personal story about cult recruitment and fear-based manipulation. The fundamentalist mindset, espousing certainty about God and the meaning of the Bible, causes untold divisions in families and communities. Undertow shows this pain from an insider's perspective and that healing is possible.
Author bio: CHARLENE L. EDGE spent 17 years in The Way (1970–1987). Later she earned a B.A. in English from Rollins College and worked for more than a decade as writer in the software industry. She is a published poet and essayist and a member of the Florida Writers Association, the Authors Guild, and the International Cultic Studies Association. She lives in Florida with her husband, Dr. Hoyt L. Edge. She blogs at: https://charleneedge.com.
Spread the news
Anyone can help pass the word about this book. Yes, I'm shamelessly asking for help in sharing it around the world. So far, copies have been sold all over the U.S. and in the U.K., Australia, New Zealand, and Germany. Word-of-mouth is the most powerful way to promote books, especially for self-publishers like me. Feel free to forward this blog post to family members, friends, or other folks you think would be interested. Together we can raise awareness of the destructive nature of fundamentalism and the manipulation of high-control groups, often called cults.
Where is Undertow?
Undertow: My Escape from the Fundamentalism and Cult Control of The Way International
Author: Charlene L. Edge. Memoir. 448 pages, 31 photos. $24.95. At major booksellers like Amazon and Barnes & Noble & indie bookstores. Libraries can order it, too.
Also available as e-book. $9.99
Thank you for your time and consideration.
Your writer on the wing,
Charlene