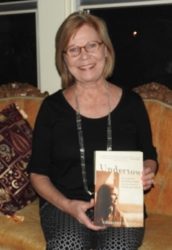 Greetings everyone. Many of you have heard a zillion times that my memoir, Undertow, is soon to be published. Yes, that's me in this photo taken four days ago holding the first copy, and that's also me on the book's cover, age 17.
On Sale November 22 – by the end of the day
This is a friendly reminder that on Tuesday, November 22, the 30-day Special Offer starts for purchasing Undertow here at this website. The PayPal button should be active by the end of the day.
Thanks to Team Undertow
I'm grateful beyond words for this chance to tell my story and to everyone who helped me deliver it. Many are mentioned in the book's Acknowledgements, including editors Mary Ann de Stefano and Alice Peck, copyeditor Ruth Mullen, book designer Duane Stapp, artist Rachel Chase, photographer Scott Cook, those who provided content advice, and my husband, Hoyt L. Edge, whose love and support in every way made this publication possible.
My intention?
That this story brings more understanding about how vulnerable people are recruited to fundamentalism and cults—two topics of growing public concern. During the last decade, TV shows, documentaries, books, plays, and movies have portrayed the complex emotional pull of cults and the misguided certainty of fundamentalism. My story offers an insider's account. You'll see how my recruitment led to commitment and ultimately to devastating disillusionment. But it is also a story that offers hope for creating a new life after a complicated cult experience.
I hope you enjoy reading Undertow
Undertow is an insider's story useful to educators, students, parents, counselors, clergy, and anyone interested in the universal themes it portrays: idealism, commitment, devastation, escape, and survival. Among other things, it's a story about the power of belief and about finding truth and love in unexpected places.
Advance praise: "Undertow will sweep you away"
In the book, you'll see what early readers have to say about the story, including:
"In Undertow, Charlene Edge has written a brilliant and engrossing warning to the future by dissecting the past. There are really two books here: one is on a cult called The Way (one of the largest fundamentalist cults in America with about 40,000 followers [in its heyday]). The second book is an examination of the dynamics of all personality, religious, and political cults. By looking (from a heart-wrenching insider's point of view) at a misuse of power in one specific group, Edge has written a book that unpacks a far greater truth. What she exposes to bright liberating daylight is just how our political and religious worlds actually function based on the mesmerizing enticement of belonging to an in-group. This is a brilliantly written and timely warning against falling into the trap of thinking we're the self-proclaimed 'chosen' (be that religious or secular, left or right) as we exclude the feared 'Other.'" —Frank Schaeffer, author of Crazy for God: How I Grew Up as One of the Elect, Helped Found the Religious Right, and Lived to Take All (or Almost All) of It Back and New York Times best-selling author of Keeping Faith
"A magnificently written life story that sheds light on the enticing ways of cult recruitment and indoctrination that engender conformity, obedience, and loss of self. Nevertheless, thankfully, the seed of doubt grows, as the author strives for acceptance through hard work and deep faith. Edge's prose captures the essence of cult life and the personal devastation of having to acknowledge not only corruption and plagiarized teachings but also a 'sex ring' at the top levels of leadership. An important and must-read book—more gripping than a mystery. Undertow will sweep you away." —Janja Lalich, PhD, Professor Emerita of Sociology at California State University, Chico, author of Bounded Choice: True Believers and Charismatic Cults