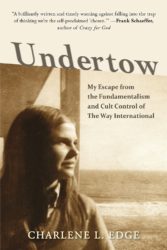 Today, it's my absolute pleasure to announce that you can order Undertow here.
Undertow: My Escape from the Fundamentalism and Cult Control of The Way International
A Synchronistic Thanksgiving 2016
Before I talk about my book here today, I want to pay my respects to this particular holiday. For some of us, Thanksgiving—tomorrow—is a bittersweet time if our loved ones are no longer with us. For me, it is like that. This holiday is a prominent feature of my life's story. In 1968, when I was sixteen years old, on the day before Thanksgiving, after battling ovarian cancer, my mother died. Anne Lamy. She was dedicated to her family. She was kind. She was brave. Her untimely death set me on a path to find "the truth" that changed my life forever. Today, I honor her life and thank her for the inspiration she instilled in me to never give up.
Thanks to Team Undertow
I'm weeping tears of gratitude for this chance to tell my story and to everyone who helped me deliver it. Many are mentioned in the book's Acknowledgements, including writing mentor Lezlie Laws, editors Mary Ann de Stefano and Alice Peck, copyeditor Ruth Mullen, book designer Duane Stapp, artist Rachel Chase, photographer Scott Cook, the many good "first readers" who provided content advice, and my husband, Hoyt L. Edge, whose love and support in every way made this publication possible.
My intention?
First, that you enjoy reading Undertow. Advanced readers say it reads like a mystery, that it will take you away, that it is beautiful and disturbing. I'm told it will be useful to educators, students, parents, counselors, clergy, and anyone seeking a good story about the universal themes of idealism, commitment, betrayal, disillusionment, devastation, escape, and survival. Among other things, it's a story about the power of belief and about finding truth and love in unexpected places.
Advance praise: "A fascinating insider's account of day-to-day life inside a cult"
"Undertow is a gift to young people and their families who want to understand the inner workings of fundamentalist cults. Charlene Edge's experience parallels much of my own twelve years as a follower of Victor Paul Wierwille's ministry. Undertow sheds light on the decisions, questions, and longings that she encountered, and ultimately worked her way through. In the words of Canadian author Matshona Dhliwayo, 'Books are kinder teachers than experience.' May Undertow be a kinder teacher to you than Charlene's seventeen years in The Way International were to her." —Steve Muratore, publisher of award-winning political blog the Arizona Eagletarian
"Well written and compelling, Charlene Edge provides a cautionary tale about the dangers of absolute religious truth. She courageously tells the story of her journey into the depths of religious fundamentalism, and reveals the intellectual strength that ultimately led her to reason her way out." —Yudit Kornberg Greenberg, PhD, George and Harriet Cornell Endowed Professor of Religion and Director, Jewish Studies Program at Rollins College
"A fascinating insider's account of day-to-day life inside a cult, which with its endless sacrifices, compromises, and increasingly convoluted doublethink, is not so unlike what an ambitious middle manager in any other large corporate enterprise experiences. With a novelist's eye for the telling detail, Charlene Edge describes the vulnerabilities that led her to join The Way International as a confused and emotionally needy college dropout in the early 1970s—and the growing disillusionment that led her back out into the world more than a decade later." —Arthur Goldwag, author of Cults, Conspiracies, and Secret Societies
A Note To Overseas Customers
Although I am not set up to sell Undertow to overseas customers due to the high cost of shipping, the book will be available through other online vendors soon, such as Amazon, Barnes and Noble, and others. Some overseas "channel partners" with my book printer/distributor, called IngramSpark, should have it soon. If you can't find it soon, send me a message through the Contact page of this website and I will do my best to track down where in the world Undertow is!