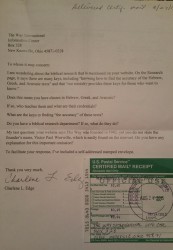 Breaking news. This report takes priority over my Italy Part II post. Read further to understand why.
Happy anniversary to The Way International after 73 years of promoting itself as a biblical research, teaching, and fellowship ministry. Wow. Your leaders, some well-meaning, must be thrilled to continue Victor Paul Wierwille's legacy into the twenty-first century. When I left in 1987 (I was involved 1970 – 1987) I did not think The Way would last this long.
Talk about salesmanship. Talk about surviving lawsuits. Talk about winning back non-profit status from the IRS. Talk about covering up Wierwille's plagiarism, as in copying J.E. Stiles book about the Holy Spirit. Talk about all the people who Victor Paul Wierwille (first president) and Craig Martindale (second president) and other leaders abused in more ways than one.
Oh, my mistake. The Way does not talk about those things.
What they do talk about is their fabulous Victor Paul Wierwille auditorium where, on October 4, 2015, they had a celebratory service to tout 73 years of staying in business. The Sidney Daily Herald graciously accommodated their public relations department, no doubt, by publishing their press release on October 14, 2015. Thanks to Google alerts, I got the heads-up today about The Way's birthday party. Looks like a very orderly and dignified service. Appears on the up 'n up. Appears.
The newspaper article
The Way celebrates 73 years of what? Well, the Sidney, Ohio daily newspaper politely and uncritically and un-investigative-journalistically reported:
"NEW KNOXVILLE — This year marks the 73rd anniversary of The Way International biblical research, teaching and fellowship ministry.
A celebration was held on Sunday, Oct. 4, at The Way International Headquarters, located in New Knoxville. Guests joined the Rev. Rosalie F. Rivenbark, chairman of the board and president of The Way International, and other members of the Board of Directors, senior officers, trustee household, staff, and in-residence Way Corps for the teaching service in the Victor Paul Wierwille Prevailing Word Auditorium.
Over 1,500 celebrators gathered from 202 cities in the United States, Canada, Chile and Ecuador. Others listened in via teleconference from meeting locations around the world, including 26 international countries representing six continents, from as far away as Japan and New Zealand…"
Question
Why does The Way not broadcast its founding president's name on their home page? You must search deep into the site to find where they give him any credit under "The Way International Research Books" in a section of the Bookstore page.
Recently, I mailed The Way a letter and asked some reasonable questions, like what qualifications they have for doing biblical research. To date, they have ignored my letter. Or maybe they lost it. It's been nearly two months and no word has come to my mailbox. I included a self-addressed stamped envelope, but alas my postage seems to have been wasted.
Charlene's letter of inquiry
The letter in the photo may be hard to read, so here is what it says:
To whom it may concern:
I am wondering about the biblical research that is mentioned on your website. On the Research page, it says there are many keys, including "knowing how to find the accuracy of the Hebrew, Greek, and Aramaic texts" and that "our ministry provides these keys for those who want to know."
Does this mean you have classes in Hebrew, Greek, and Aramaic?
If so, who teaches them and what are their credentials?
What are the keys to finding "the accuracy" of these texts?
Do you have a biblical research department? If so, what do they do?
My last question: your website says The Way was founded in 1942, yet you do not state the founder's name, Victor Paul Wierwille, which is easily found on the internet. Do you have any explanation for this important omission?
To facilitate your response, I've included a self-addressed stamped envelope.
Thank you very much,
Charlene L. Edge
Who cares about 73 years of The Way?
Thousands of us care. Thousands of Wierwille's former followers, now disillusioned, damaged, and/or otherwise hurt from spending the years of their youth, donating their money, volunteering their talents and their energy to the purposes of a destructive cult called, The Way International, care. We care because some people even died under the influence of twisted Way beliefs. A whole bunch of us care a whole lot!
We do care. We do not want another person to donate another dime to The Way. We work to deter anyone from getting involved with the organization, which MANY of us consider a destructive cult. Refer to my posts like, The Camouflage of Cults.
Witnesses of The Way's destructive influence
I spent 17 in service to a mirage called "the accuracy of The Word." If only I'd done a little homework, say about N.T. history, I might have spared myself some grief. And some homework about cult leaders and their tactics would have helped.
Check out books like Karl Kahler's The Cult That Snapped: A Journey Inside The Way International. 1999.
Read the heartbreaking memoir, Losing The Way, by Kristen Skedgell, a victim of Wierwille's sexual exploitations. 2008.
Then, check out the website, www.greasespotcafe.com where thousands who have been impacted by Way leaders and their twisted lifestyles and beliefs seek understanding…and understandably they naturally do a lot of venting.
Okay, that's enough, Charlene.
See you next time!
P.S. This post was edited August 21, 2016 to correct a statement that The Way did not mention VP Wierwille on its website. I could not find any mention of him when I wrote this post. I have since. My apologies …