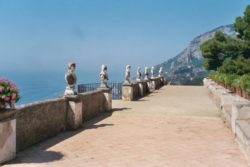 How do you spell heaven? For me, it is R-a-v-e-l-l-o, a sun-splashed hill town along the Amalfi Coast. Hoyt and I spent a few days there in 2003. This post was going to be Italy, Part II (with Sienna, Florence, and Pompeii) but HELP, I'm stuck in Ravello, and I can't get out!
Ravello, in the province of Salerno, Campania southern Italy, is so stunning that it became a UNESCO World Heritage Site in 1996. With only about 2,500 inhabitants, it is easy to feel far away from the more bustling cities like Rome. Hoyt drove us north up the Amalfi Coast from Pompeii so I would be on the side against the hills, not hanging over the cliff scared to death! What a guy!
The hills were alive with music and lemons
One evening, we attended a concert in a lovely grotto down the hill from our hotel. Musicians and singers gathered under the ancient limestone alcove, and serenaded us until after dark. Another evening it drizzled, and afterwards we had a rainbow sighting from our balcony.
It's been a dozen years since our trip, but Hotel Amore, where we had a "room with a view," may still be there. It was cozy and quiet. Our room had a little balcony that hovered over the sea, and the scent of lemons from trees growing along nearby pathways filled the air.
Good grief, Hoyt, could it have been any more romantic? Nope.
One afternoon we visited a nearby palace garden. Can't you picture a motion picture filmed on its grounds? There probably was …
So, enjoy these photos—they really do tell our Ravello story. Other Italy stories to come later …
See you next time!
BTW – every post sent to Subscribers (now about 115) is stored here at the website. You can find them under the Blog heading on the Home page, or in the Travels category.
Click on any photo and a slideshow ensues…