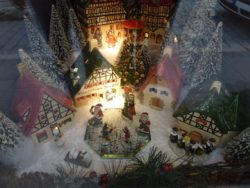 'Tis the season to be … jolly, merry, generous, truth-telling, extra loving, and whatever else makes for a better world. If that's what it's all about, I say, what's good for this season is good for all seasons.
Christmas in Germany
A few years ago my husband, Hoyt, and I toured Germany in the spring, not during the winter, not even close to the holidays, but in many towns I saw Christmas. No matter what time of year it is, Germany has at least one shop in most every town dedicated to Christmas paraphernalia. The German folk have many wonderful wood carvers who LOVE Christmas, especially in Bavaria and The Black Forest where we spent most of our time.
Bavaria, Germany
Bavaria is in the southeastern part of Germany and is predominantly Roman Catholic. That heritage is evidenced all over the place. Shrines along the road house crucifixes, and quaint churches here and there dot the evergreen countryside. Also, in Baden-Wurttemberg, which is in the southwestern part of Germany, is The Black Forest—so dark green that deep in the woods it looks black. It, too, is Roman Catholic.
In these two areas, along with neighboring Austria, Madonna-with-and-without-Child statues are popular architectural features, inside and outside of churches and other buildings. No matter what your faith or lack thereof, there's no denying many of these sculptures are works of fine art. Gorgeous. I was captivated by the artwork and captured much of it in photos. So here you go …
Enjoy! And happy holidays to you and your loved ones.
See you next time!
Madonna and Child Gallery