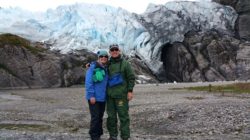 Welcome back to the Wilderness Beyond series where glaciers and flowers and icy lakes abound.
Today I'm writing little commentary. The photos speak for themselves. For this, I'm sure my former fifth grade teacher, Sister Margaret Mary (bless her heart), would be very thankful since she more than once warned me, "Charlene Lamy, you talk too much!"
Pia Glacier and Glacier Alley
On New Year's Eve we sailed through the Beagle Channel and landed on Pia Glacier at its starting point in the Darwin mountain range. This glacier might look stable, but it is in constant motion.
No kidding, glaciers are melting
Our guidebook stated, "A 2003 study led by researchers at the U.S. Jet Propulsion Laboratory found that the Patagonia glaciers of Chile and Argentina are melting so rapidly that they are making a significant contribution to the rise of the sea level."
We're deeply grateful for the chance to see this part of our amazing planet … it is melting before our very eyes.
It was surprisingly not freezing, although to be nice, at the end of the hike, our ship's crew motored over a portable bar, delivering their famed warm-up boost: hot chocolate with a few splashes of whiskey. Yum!
As always, click the first photo to begin the slideshow!
P.S. – News about my upcoming book: I've created New Wings Press with the intention of publishing my memoir, Undertow: My Escape from the Fundamentalism and Cult Control of The Way International. Target publication date: Fall 2016.
Please note: New Wings Press is not available to publish other people's books.
Thanks for reading. See you next time!