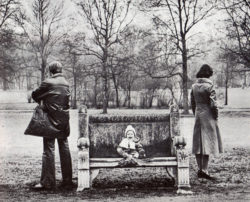 I couldn't resist passing on this list of questions posted in a nearby eye glasses shop. Behind the counter, taped to a shelf, a simple piece of white paper poses the questions:
Is It True?
Is It Kind?
Is It Necessary?
I'm assuming that "it" refers to words and actions the employees and customers are about to say or perform. What else could it be?
For years I've been a customer of this local business—that's me crying on the bench with broken glasses :-). I regularly need my prescription updated or frames tightened. But unlike that child's caretakers, the employees' in this store have given me outstanding customer service. I suspect their list of test questions may have something to do with that.
That simple list in plain sight reminds them, and patrons like me sitting on the other side of the service counter, of values that most of us have probably heard from preachers of morality we've encountered along life's path: parents, good teachers, diligent priests or ministers, and even books we've read. Isn't it easy to recognize the peace-making qualities of speech and behavior that results from YES answers to those questions? Granted, sometimes it is hard for us to answer YES to all three questions at once. Oh, if we only did what we "should" all the time!
Uh oh, now what about us?
Most mentally healthy people know whether what they say is true or not. We desire to speak truth as best as we can. But what about in abnormal circumstances? I'm thinking of what's called "the good lie," which is beautifully portrayed in the movie by the same name, starring Reese Witherspoon. When you are up against an evil situation trying to overpower you (like in the movie) what do you do?
As for question #2, Is it kind? I'll wager most people are aware of whether their words and actions are kind or deliberately mean. (Guess I'm an optimist, or at least I am trying to be one today.)
I'm wondering, though, about the last question, "Is it necessary?"
What is necessary?
You've met them. People who talk too much all the time, blab useless gibberish more than offering anything of value, or over-disclose on a regular basis. Is all that really necessary? Or are we adding to noise pollution when we act like that? We all do it occasionally but what happens when any of that becomes habitual? Mmmm …
As for my writing life, this question reminds me of author Annie Dillard's exhortation to writers in her 1989 New York Times article, "Write Till You Drop."  Here is my favorite part of the entire essay, as bleak or stringent as it may sound:
"Write as if you were dying. At the same time, assume you write for an audience consisting solely of terminal patients. That is, after all, the case. What would you begin writing if you knew you would die soon? What could you say to a dying person that would not enrage by its triviality?"
And so, what about this question, "Is art necessary?" We could ask, Necessary to what? Living better? Being better? Thinking better? I trust we hold the answer to those questions as a self-evident YES.
Kirkus Reviews: Undertow
"If a research branch denies its own findings due to the will of one man, then surely trouble is afoot. A frank and in-depth account of one woman's struggle in a controlling organization." — Kirkus Reviews
For the complete review, click here ⇒ Kirkus Reviews
Thanks for wondering along with me today.
Your writer on the wing,
Charlene