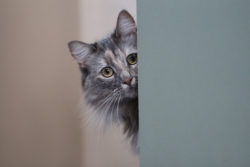 Sneak a peek. This is just a quick note to let you know that on Amazon, the "Look Inside" feature for Undertow is now activated. Yeah, self-publishing a book and attending to all its stages of life takes a while. Thank you for your patience.
Sneak preview
The "Look Inside" feature for books on Amazon is set up by Amazon after the publisher jumps through a few hoops. In my case, the publisher is yours truly—as well as being the author and chief bottle washer.
Now, guess who chooses which pages prospective buyers can see. Yep, Amazon. I am glad to offer sneak peeks into the book online, but, aside from parts of the story, I am surprised the big A selected things like the Bibliography to preview. Oh well, I guess it shows I did some homework. And it's only fair to get to test drive the text itself. In a brick and mortar store, you can thumb through a three-dimensional book before you buy it. Why not online?
e-book for Undertow
Yesterday IngramSpark notified me that they completed the e-book conversion. Yay! They've released it into the world. Now, guess who takes a week or two to make the e-book available after it is sent to them. Yep, Amazon. Also Barnes and Noble. And also about 70 other e-book vendors.
BTW, IngramSpark is the same print-on-demand company that prints and distributes the paperback copies of Undertow. I chose IngramSpark because they have distribution agreements with entities around the world. And their work is high quality.
Price for e-book Undertow: $9.99 U.S. dollars.
Undertow down under?
Thanks to IngramSpark, so far Undertow has reached readers all over the U.S. and in Australia, the United Kingdom, New Zealand, and Germany. Readers are sending me messages via e-mail, on Facebook, and through the Contact page on this website almost every week letting me know the story helps them in one way or another. That is my reward.
Speaking out about Undertow
Seems as if everyone is speaking out or speaking up about something these days. My task is promoting awareness of cults and Christian fundamentalism, and sharing my story which makes these topics personal.
If you want to see where I might be next, check the Events page, but I want you to know that I don't advertise every single event for various reasons. Hope to see you 'round.
Ciao for now,
Charlene